AntiVirus and AntiSpyware Programs – If "1" is Good, Is "2" Better?

April 3rd, 2011

Posted in
Antispyware
,
Antivirus
,
Computer Performance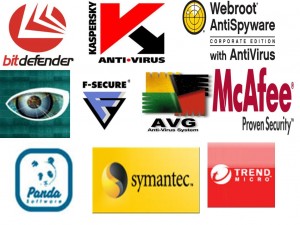 I've had a few computer problems this week again that must have resulted from a misconception some people have about antivirus programs. I'm talking about the big No-No of having "2" antivirus programs installed. For that matter, 2 Firewalls or 2 "active" AntiSpyware programs.
To put it in biblical terms, you can't have 2 masters. Here are a few reasons I have heard why some people end up with 2 of the same type of security program. Please feel free to comment and share your reason…
If 1 was good, 2 must be better
The 1st one didn't remove my virus, so I installed another one (similar to above)
Didn't know there was one already installed
Thought I removed the other one already
The original one didn't uninstall properly
Didn't know the new antivirus program also came with a firewall and antispyware
What Can Happen?
Having 2 of the same type of security program usually ends up in them fighting each other over what they protect. At best, your computer will still function OK, but will slow down significantly. But it could easily cause symptoms that might make you think you actually have a virus … imagine that!  But I have also seen 2 antivirus programs cause so much chaos with Windows that you can't even boot Windows normally, where you might end up with a blank desktop and a cursor, the computer might continually reboot itself in a loop, or it could just stop responding entirely with a Blue Screen of Death (BSOD).
How to Avoid Having 2 of the Same Type of Security Program
First, find out what you have installed already, and it doesn't matter if it is expired or not. It is a good practice to get familiar with the name of your security programs as well as the shape and colors of its icon. You will usually know you have an antivirus program running because you will see an icon for it in the Notification Area (some call it the System Tray) in the lower-right corner of your display. Below are a few locations to check what you have installed:
Notification Area
Start > All Programs
Control Panel
Windows Security Center
For those who thought they removed their old antivirus program already, just know that when removing an antivirus program, they rarely uninstall completely, mainly because they are expecting you are just temporarily removing it (for whatever reason), with plans to reinstall or upgrade it to the new version. If that's the reason, this is usually OK. As for me though, after removing any program and following a fresh restart, I will remove any remnant folders left behind and then clean the registry before installing the new program. I do this manually as well as using CCleaner. This will usually help reinstallation go more smoothly as well as avoiding some of the the internet connection problems many computers have after removing security programs, particularly the ones bundled with a firewall.
As for those that didn't uninstall properly, there are a few name brand antivirus programs that have a reputation for being difficult to remove at times. One comes in a yellow box and the other comes in red. But the companies behind them have been kind enough to provide some free programs you can download to "force them out". Below are links to the dynamic duo in red and yellow:
I can't help not to be cynical about some of these programs because I have been dealing with the same complaints for years, so what can I say except that they earned their reputation.
What about Firewalls and Antispyware Programs?
While 2 antivirus programs is bad enough, fortunately 2 software firewalls or 2 "active" antispyware programs is not as bad, but should be avoided anyway. As for "passive" antispyware programs, I routinely use 4 of them. Now I wouldn't go overboard with trying to out do me, as these passive programs are only used to scan for malware "after" you have already been infected, and don't offer any real-time protection to prevent an infection at the outset. If you start hunting for every antispyware program under the sun to immunize your computer from spyware, you will probably end up unknowingly downloading a rogue antivirus program sooner or later.
Myself, I prefer to use a paid version of SUPERAntiSpyware Pro for my active protection, and Malwarebytes Anti-Malware, Spybot Search & Destroy (without the Tea-Timer), and SpywareBlaster for my passive protection. I used to also use Adaware Personal, but didn't like the slight performance hit it caused when they started running an automatic Windows Service for a passive program, although it is a reputable program. I would say that I like Malwarebytes and SUPERAntiSpyware equally, but I had to choose just "one" … right?
Since Windows Vista and Windows 7 both run an embedded active antispyware program known as Windows Defender, you should "disable" it when installing another 3rd party active antispyware program. The same goes with the built-in Windows Firewall. Since these features are embedded into Windows, don't try and find a way to remove them, just disable them.
Some computers have remnant files and services still running from 3rd party firewalls they didn't even know were ever installed, or at least thought they were already removed. While the program as a whole may be gone, these leftover files and services can cause internet connectivity problems that can drive you crazy. While "you" might remember what was installed, a technician will have to discover them on their own. For this, I have been using a nifty portable program called Enum Process that can quickly help me identify the name of any 3rd party firewalls that might still be active enough to be causing problems. It doesn't repair anything, but will at least confirm the firewall's brand name so you will know what remnant files and registry entries to search for that might be causing the problem.
Another free portable program I use is called Autoruns for Windows. Use Autoruns  to search for the Publisher name of your security product and delete it (*). Just be careful with this tool, you certainly don't want to disable or delete a required process.
* Important: You should always "first" use the Add-Remove Programs feature in Windows to remove programs.
Did a Technician Work On Your Computer?
If you had your PC repaired by a technician, be sure to ask them if they removed or installed any security programs. I will almost always remove an expired antivirus program unless I know they plan on renewing it. Some antivirus programs become corrupted and need to be reinstalled anyway. Some computers leave the shop without any antivirus protection (which I strongly urge against). For the rest, I would prefer to install a trial version of a top-tier product than a totally free product. That will at least buy you 30 days or so to come up with $40 bucks for a good product. Please, please, please understand that the free antivirus programs offer only basic protection and are missing many features of their paid counterparts.
Anyway, I want you to know this about "most technicians". When most technicians out there remove your old security products, they do not completely remove it because they only use the Add-Remove Programs feature in Windows to remove it, which I already mentioned may not be adequate. That's just the way it is. Yes, I am different because I have some obsessive-compulsive work ethics which work out in "your" favor. So, if it wasn't me who repaired your computer, when you go to install an antivirus program on your own later, a certain percentage of you will begin to have problems depending whether you chose to install a new brand or not. So do a little homework to make sure there are no remnant files and services running from the old one before you install a new one.
A Final Note
Some reputable security programs will detect when you have a rival product already installed on your computer, and will prompt you to manually remove them first. Please don't depend on this courtesy notice though, because you should know without a doubt what security products you have installed on your computer and if they are current or not. Otherwise, if you ever see a security alert on your computer, you might not know if it is fake or not. It's ironic that I constantly warn people about fake antivirus programs in my blogs, but it still remains to be the bread-and-butter of my computer repair business.