4 Tips to Avoid the Blue Screen of Death

September 5th, 2011 Tags:
blue screen of death

Posted in
Blue Screens

Once in a while, a Windows PC can suddenly experience a Blue Screen of Death or BSOD as we call it.  In fact, it just happened to a computer I was working on yesterday. It was an older Sony Laptop, a miniature laptop very similar to the ones we call Netbooks now, except this one had a built-in DVD Drive. I had completely reloaded Windows using the Recovery CDs and all was going very smoothly until I installed a major Windows Update known as Service Pack 3 or SP3 for short. I got a BSOD upon the first restart after the update was finished.
The scenario with my old Sony Laptop is not the cause of all Blue Screens, but is an example of a "real" situation to illustrate how Windows Updates can cause a Blue Screen. By default, these Updates are installed Automatically, so these types of problems can appear suddenly without any warning or cause on your part.
I usually don't get worried installing updates on WinXP or Win7, although I get paranoid installing SP2 on a Vista machine. As for WinXP, on computers with certain AMD Processors, you can get a BSOD after installing SP3 if you didn't install the Microsoft Windows XP SP3 Upgrade Utility for systems with AMD processors first. But I am aware of this problem and this Sony Laptop had an Intel Processor anyway.
If you run into this situation, you might be able to boot into Safe Mode and either remove SP3, install the AMD Update, or run System Restore to a point before SP3. For this situation, the update is mandatory and will  prevent a condition from occurring that causes continuous system restarts or "Stop: 0x0000007E" errors after upgrading to Microsoft Windows XP Service Pack 3 on systems with an AMD processor. HP provides the update at: Microsoft Windows XP SP3 Upgrade Utility for systems with AMD processors.
Since I know the Hard Drive was error free when I started, and the system was not infected since I just installed Windows, I suspect that the problem was caused by an outdated device driver that became incompatible with Windows after the update to SP3. Had I not used the System Recovery CDs to install Windows, I would've downloaded the latest device drivers and might have avoided the Blue Screen, who knows? This type of problem doesn't happen too often so you will usually get away with it if you wait to install updated drivers later, but it is a risk nevertheless.


Blue Screen Avoidance Tip No. 1
Before installing any major Windows Updates, be sure that all your existing software and drivers are up-to-date first. Microsoft recommends that you use Automatic Windows Updating, but as for me, I prefer to set my Windows Update feature to "Check for updates, but let me choose whether to download and install them". I won't be discussing the details on how perform Windows, Program or Driver updates here, but I will say that you can check your manufacturer's website for the driver updates. Below are a few links to some Computer Vendor's Support websites.
Acer  eMachines  HP  Compaq  Sony  Gateway  Dell  Toshiba
I should add that if you install any of the "Optional" Windows Updates, be careful about installing "Microsoft Security Essentials". While it is a very good and free Security Suite, if you already have security software installed, installing another one can cause Windows to become slow and unstable. I see this happening every week now ever since Microsoft started including Microsoft Security Essentials as part of Windows Updates, optional or not.
As for all your application software, I suggest you use the freeware version of Secunia Personal Software Inspector which can help automate your program updates.
Blue Screen Avoidance Tip No. 2
Most of the Blue Screens I see on a regular basis are the result of a corrupt registry due to malware infections. As far as avoiding malware infections goes, you can start with my Basic Prevention tips as well as running up-to-date antivirus and antispyware software.
My top picks that I use myself are:
Blue Screen Avoidance Tip No. 3
Another common cause of Blue Screens are Hard Drive errors. Hard Drive errors can be an "indirect" result of the incompatible software and drivers or malware infections.  They may cause Windows to become unstable and freeze, prompting you to perform a necessary, but bad shutdown. It is this "bad shutdown" that can cause errors on the Hard Drive, which can lead to permanent Hard Drive failure and data loss. Many people are not aware of the consequences of a bad shutdown and just keep repeating the scenario of using the computer until it freezes again, and then shutting it down improperly again and again.
If you are getting a Blue Screen that says "Unmountable Boot Volume" with a Stop 0xed Bugcheck Code, then you already have "severe" errors on your Hard Drive which need to be corrected before you can do anything else with Windows. In my experience, about 20 – 30% of computers with an Unmountable Boot Volume BSOD have bad Hard Drives that need to be replaced. You will find out during Chkdsk if it is bad because it will usually hang at a certain % of completion or if you have too many unreadable file segments, etc. If Chkdsk doesn't do the job and you don't want to accept defeat yet, then you can try the HDD Regenerator, but it is not free. HDD Regenerator has saved a lot of Hard Drives that I would have otherwise written off for dead.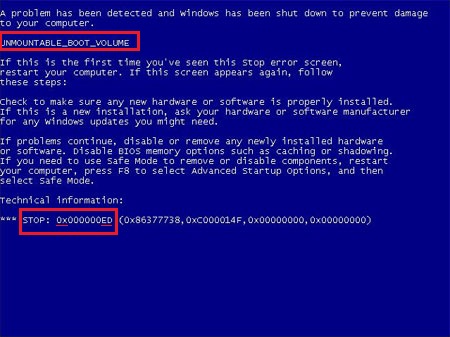 Some of my customers ask me what else can they do if they aren't supposed to just power-off the computer when it freezes. This is a no-brainer! Quit using your computer until you get it fixed! The first time it freezes, you have no choice but to just power-off the computer. If you had no reason to believe there was anything already wrong with your computer before it froze for the first time, then you might risk starting the computer again just in case the problem was a fluke.
Caution: But if your computer had "already" been acting up and you have just been ignoring it and now the problem has gotten worse to the point of freezing, don't risk using the computer again until you get it fixed. If you do, you just might end up with a repair bill that may be 2 – 3 times what it would have been if you got it repaired at the first sign of trouble. I say 2 – 3 times because of the labor costs, a new Hard Drive and Data Recovery fees for the corrupt Hard Drive. Actually, Data Recovery can get extremely expensive if the Hard Drive develops a physical problem. If this is the case, the average computer shop will not be able to get your data and you will need a clean-room Data Recovery service.
When you do get a Blue Screen, be sure to write down the important information contained in the Blue Screen noted in the "red boxes" below. The rest is just generic information and may or may not be the cause of your problem, so take it with a grain of salt. Even if you tried to do what it advises, it might require an advanced knowledge of computers to perform. Most people have digital cameras these days, so it might be easier to just take a picture of the Blue Screen. Then you can find out more about your problem using the Bug Check Codes website from Microsoft.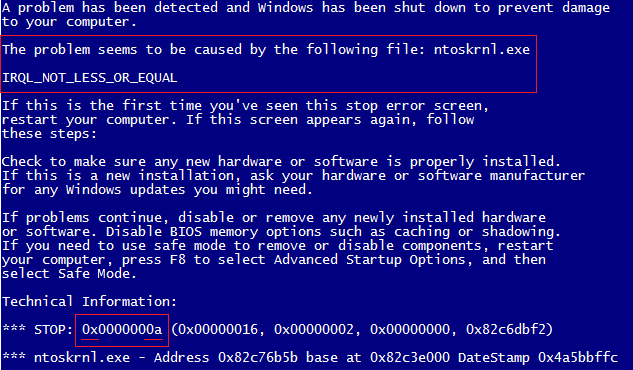 Blue Screen Avoidance Tip No. 4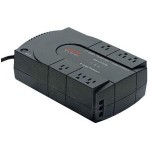 Power outages are another common cause for bad shutdowns which can easily be avoided with an Uninterruptable Power Supply (UPS).  It looks like a big surge protector like the one pictured here. A UPS is not a long term source of power, but should last at least a few minutes. This will either be long enough to weather a brief loss of power, or to give you enough time to properly shut down your computer until stable power is restored. With a UPS, your computer won't even "blink" when you lose power!
As for Laptops that have their own source of power with an internal battery, they can also be powered-up with an AC Adapter. If you were operating solely on battery power without the AC Adapter, and the battery suddenly died, this would cause a bad shutdown. Also, if you were using the AC Adapter and the battery was dead or removed and you lost power, this would also cause a bad shutdown as well.
So using a UPS for Desktops and good batteries for Laptops can help prevent bad shutdowns, which can in-turn help to prevent Blue Screens.
________________________________________
If you suspect you have errors on your Hard Drive and want to repair them, watch the video in a previous post at: http://spywarepreventionguy.com/how-to-run-chkdsk-to-repair-errors-on-hard-drive
If you follow the usual advice for Spyware Prevention along with Tip # 4, you will drastically improve you chances of avoiding the dreaded "Blue Screen of Death". For a related article about Blue Screens, see http://spywarepreventionguy.com/blue-screen-caused-by-virus-or-spyware