I Am NOT Affiliated with DoubleMySpeed.com (aka CyberDefender, MaxMySpeed.com and MyCleanPC.com)

June 28th, 2012 Tags:
cyberdefender
,
doublemyspeed
,
doublemyspeed.com
,
maxmyspeed
,
mycleanpc

Posted in
Reviews
,
Rogue Security Programs
,
Spyware Prevention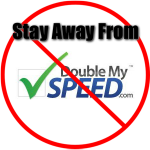 During the last couple weeks, I have been getting several phone calls from around the country asking if I was with DoubleMySpeed.com.  These people were all looking for a refund. Somehow, they got my phone number off the web making them think so. I am just a guy that runs an independent  computer repair shop in Hawaii. About the only connection you can say I have with DoubleMySpeed.com is that I have blogged about them "very negatively" on many occasions. I know some of my blog posts have ranked in connection with DoubleMySpeed's name because of my negative reviews, so I assume my phone number popped-up in the search engines as well for DoubleMySpeed.com (aka CyberDefender, MaxMySpeed.com and MyCleanPC.com).
Their emergency PC Support ph# is listed as (866) 793-0453 at http://www.cyberdefender.com/
Click "Read More" button below for full article.
My Opinion on CyberDefender (or whatever they want to call themselves)
But just so you understand my position with CyberDefender or DoubleMySpeed or whatever, I thoroughly believe they are ripoffs. I typically say they are a borderline scam because they do just enough legal wise to keep themselves from being labelled as an outright scam and shutdown by the authorities.
I would note though that it is possible for their product to help with some people's computer problems in the same way that a broken clock is right twice a day. But if you are looking for the miraculous results they claim on a consistent basis, you are going to be thoroughly disappointed.
The fact is that even an experienced PC Technician can spend hours cleaning up a sluggish, infected PC, especially if it is infected with a rogue security program . Sure, there are a few manual tweaks that I can do in a few minutes to speed up your PC, but I have never noticed these tweaks done on any computer I have seen with CyberDefender installed. I am always looking for better and faster products to do my job, and if CyberDefender performed as advertised, I would be using it, but I don't.
Why Do People Try CyberDefender?
Most people that want to improve their PCs performance, are usually infected with some form of malware. Removing malware can be time-consuming and in many cases, you may just have to back-up your data and reload your PC from scratch. Save yourself a headache and call a nearby independent computer repair shop before you get in over your head and try to remove malware yourself. For people that opt to try and fix their own computer, they either find DoubleMySpeed through their sensational TV or Radio Ads, or they stumble across them while Googling the internet for a fix. They also have numerous affiliates (not me) that promote anything for a buck all over the web. From some of their ads, you might not even figure out who they are until later, after your have downloaded their free diagnosis software.
Can you imagine how big their advertising budget is? I sure wish they would put that money into their product and make it actually do what they say it does, and then rely on word of mouth advertising. Well, my mouth says their product is "less than worthless" and can actually cost you money without getting what you paid for.
Anyway, these guys (CyberDefender) have been around for years, and sadly, people keep falling for their bogus claims, hoping for a miracle. Most consumers don't really know what the best security products are, and can be easy prey for companies that think nothing about using deception to get new customers.  Anyway, forget their "Free Diagnosis" because it is just a marketing tool to get new suckers (I mean customers). Their "Free Diagnosis" won't "attempt" to fix anything until you PAY, and then the disappoint starts. What started out as "free" turns out to be $200 – $300 for some. Just know that there are plenty of good, free software products out there, but CyberDefender's "Free Diagnosis" is not one of them.
There Are Always Options
There are plenty of other reputable companies out there that offer full-featured trials of their products that you can usually use for 30 days, so there is no reason why you should chance it with CyberDefender.
Anyway, if you already have DoubleMySpeed, MaxMySpeed,  CyberDefender, or MyCleanPC on your computer, I have previously posted some detailed information on how to remove it at:
http://spywarepreventionguy.com/how-to-remove-cyberdefender
It's a bit lengthy, but it also includes some links to some free products (and a few paid) that can help you with some common computer security and performance problems in lieu of using CyberDefender.
Anyway, don't fall for their attempt to get you to pay them any more money for remote support or whatever! I would also call your credit card company and do a chargeback. Just be sure to have your information ready about what happened.
Help with Identifying Bad Websites
If you want to get an idea about the trustworthiness of websites with a red, yellow, green traffic light approach, add the Web of Trust (WOT) browser add-on to your browsers and stay away from red and yellow sites. Not every site out there has been tested, but if a site shows up as a red or yellow site, I would stay away from it. I posted some screenshots of a few of CyberDefender's alias websites below:
http://www.mywot.com/en/download
Anyway, it has been flattering (in a weird way)  that people have been calling me about this. But to reiterate, I am not affiliated with DoubleMySpeed.com or any of their aliases. Enough said…