Keep Java Updated to Help Prevent Infections

January 7th, 2012

Posted in
Spyware Prevention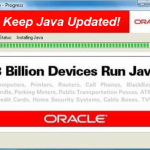 While many people have a love-hate relationship with Microsoft about their Windows Updates, these aren't the only updates you should be keeping up with. By the way I already covered Windows Updates in a previous article. As for Java Updates, it is a good idea to keep up-to-date because I am seeing more and more computers infected with Java Exploits that may have been prevented if they had the latest version of Java installed. Some Java exploits do little to make the victim aware that their computer is even being exploited, so you won't always see symptoms that you are infected, so performing updates and regular security scans is a must. Below is a screenshot of a Java infection detected by ESET Nod32.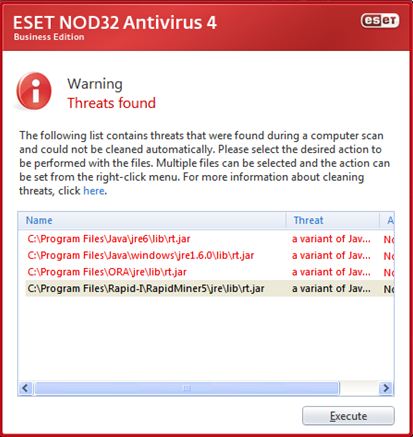 Over 3 Billion devices run Java these days so it is a very popular plugin to exploit with malware. Without getting into all the reasons that a threat may have been missed by your existing security software, you are certainly exposing yourself to old threats if you don't keep your Java updated. While updates may consist of program enhancements, they may also contain patches for recently discovered security vulnerabilities.
As a policy, we update Java, Flash and Adobe Reader on all computers we service. I "rarely" see a computer that has the latest updates for these plugins and applications, but I "frequently" discover infections with them. So, if you want to improve the security on your computer, keep your plugins and applications patched with the latest updates to immunize your computer against these types of threats, because many people are finally discovering that antivirus programs are not enough.
Update Links
Beware of any pop-up that prompts you to install or update a program on your computer. While many might be legitimate, I can't be there with you to tell you if they are or not. If you want to err on the side of caution, I suggest you note the name of the program that your are automatically being prompted to install and go to the vendor's website to install the update manually.
Below are a few links that I use to update my Java, Flash, and other Adobe products. When possible, I prefer to download the "offline" versions of the files, which I always have the best results with.
Java Download for All Operating Systems