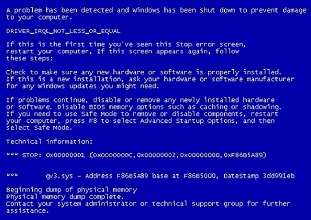 Blue Screens are definitely a show stopper when using Windows, whether they were caused by Windows registry or system file corruption, software conflicts, outdated or corrupt drivers, and even spyware infections. Since the system freezes when you get a Blue Screen, the mouse and keyboard will not respond and all you can do is shutdown and restart the PC with the power button.
If you have read my previous posts about bad shutdowns, you know that repeated bad shutdowns can cause your hard drive to develop file system errors and even bad sectors. Hopefully you can restart your PC in a way that it won't Blue Screen right away, such as in the Safe Mode, and then you can begin troubleshooting.
The following video will give you some insight directly from Microsoft about how to fix blue screens. While it is primarily for Windows 7, the techniques pretty much apply for any version of Windows, although some features may not be available on older Windows versions.
The following 2 links contain info mentioned in the video.
http://windows.microsoft.com/en-us/windows7/resolving-stop-blue-screen-errors-in-windows-7
http://www.nirsoft.net/utils/blue_screen_view.html