How to Renew ESET Nod32 or ESET Smart Security
REMINDER

: Your Antivirus Program is About to

Expire

This is a friendly reminder from Gakidoo's Computer Repair to renew your ESET Nod32 Antivirus. Yes it has been about a year already! To ensure continued protection, please renew now!

To verify that you are eligible for renewal pricing for your ESET security product, use the following checklist:
You can renew your ESET security product license up to 90 days before your license expires (the unused time will roll-over), or up to 60 days after your license expires.
If it has been more than 60 days since your license expired, you are not eligible for renewal pricing, but you can purchase a new license through the ESET online store. If you need help checking your expiration date, click here.
The email address you use to validate your renewal license must match the email address you used in the original order or activation. If we installed your ESET product for you and you do not know what email address we used in the original order or activation, contact:
______________________________________________
Gakidoo's Computer Repair


94-216 Farrington Hwy, Suite B1-101
(808) 676-1900
To renew your license, please visit our Purchase and Renewals webpage at http://www.AntiVirusKing.com
______________________________________________
How to Renew ESET Smart Security and Nod32 Antivirus
1.  Open the Purchase and Renewals webpage, scroll down and Click on "Renewals" in the Quicklinks box.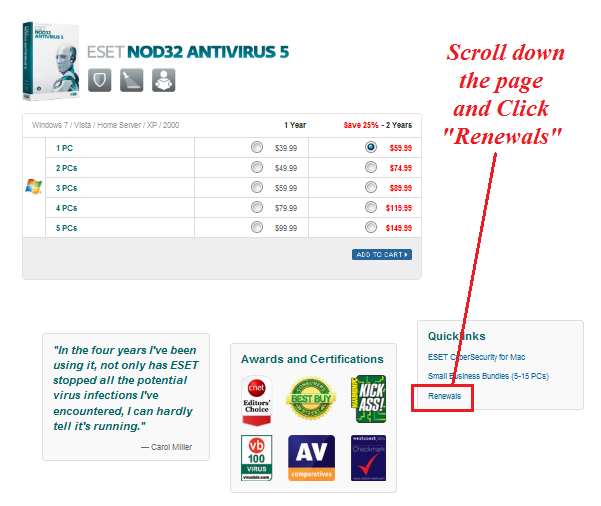 2.  Enter your Username and Email address (used on your original purchase) in the appropriate fields and click the Submit button.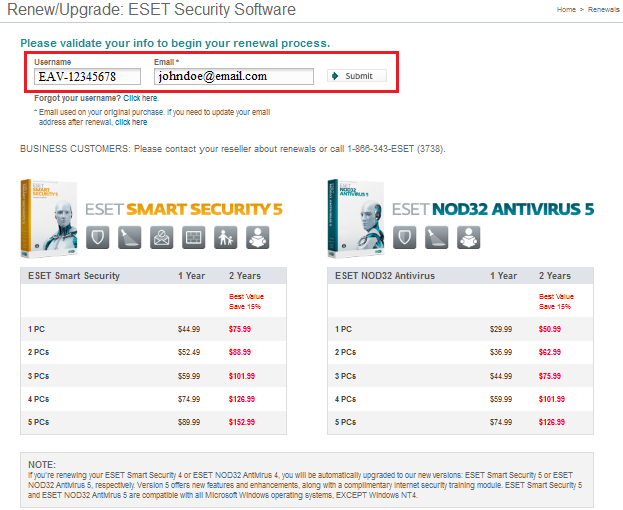 Note 1: You can retrieve this information from your original "ESET NOD32 Antivirus Purchase Information" email. You will also need this info to create an ESET Store Account. If we installed it for you, some of this info should also be documented in the Nod32 folder on your C: Drive at: c:\Nod32\ Nod32 Purchase Info.txt
3.  Select your preferred renewal option and click Add To Cart.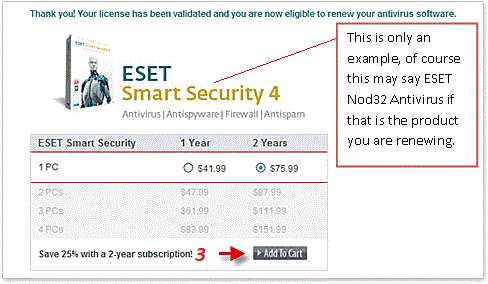 4.  Verify your purchase details. If the details of your purchase are correct, click Proceed to Checkout.

5.  If we installed ESET Nod32 Antivirus for you, you "probably" DO NOT have an ESET Store Account yet (see Note 1 above). If you have an existing ESET Store Account, enter your Email and Password and click the Continue button in the Existing Customers box, otherwise you will need to complete the New Customer Registration form (details not pictured).

6.  Enter your billing and shipping address and click Continue on those pages (if you are an existing customer, you do not need to re-enter this information).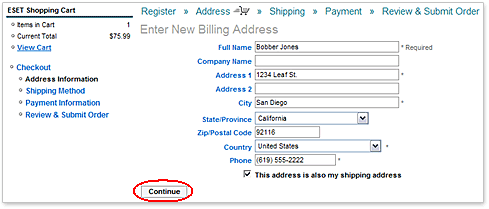 7.  Click Continue to verify the Shipping Method (Unless you elected to purchase a backup CD, you will not receive physical goods by standard mail. We will email your unique Username and Password to your registered email address).

8.  Enter your payment information and click Continue.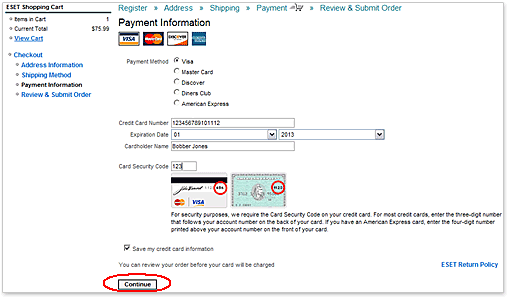 9.  Review the billing, shipping and payment information, and click Submit Order to finalize your purchase. Your online receipt will be displayed. Please print this for your records.
Note 2:After purchasing, you will receive two email messages. The first email message is a copy of your online receipt. The second email (click for example) will contain your new Username and Password. To update the expiration date of your ESET security product, just enter this new username and password into the program using the steps below:
Important! If you are upgrading your ESET security product from the trial version to the full version, please allow 12-24 hours after entering your new username and password for the new expiration date to display.
10.  Open the main program window by clicking the ESET icon  next to the system clock or by clicking Start All Programs ESET ESET Smart Security or ESET NOD32 Antivirus.
11.  From the main menu, click Update and then click Username and Password setup….
12.  Verify that your username and password are entered correctly and then click OK. The following are EXAMPLES only:
Username: EAV-12345678
Password: abcde12345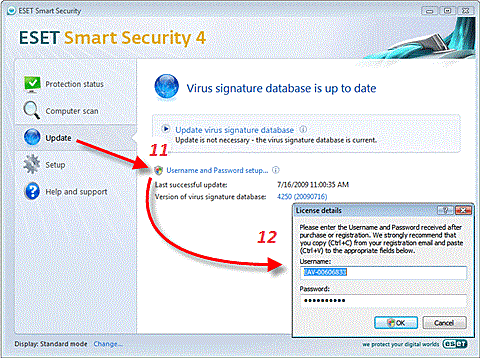 13.  From the primary window, click Update virus signature database (make sure you are connected to the Internet).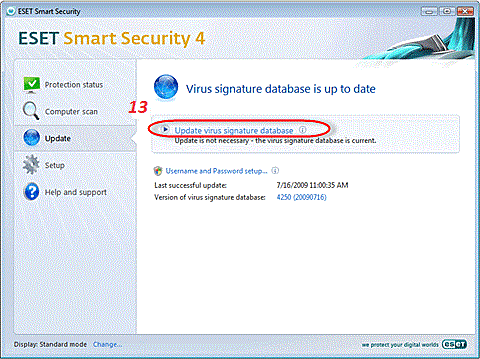 If you are not prompted for your username and password, they have been entered correctly. If you are prompted for your username and password, click Cancel and repeat steps 11 and 12. Make sure you are logged in as administrator, or have administrator privileges.
Important!
Please remember to enter your username and password exactly as they are written.
The username and password are case sensitive and the hyphen in the username is necessary
The password is ten characters long and all lowercase
If you are copying and pasting, make sure you don't select an extra blank space
We do not use the letter L in passwords (use the number one (1) instead)
A big '0' is the number zero (0), a little 'o' is the lowercase letter o
One Last Note:
Please allow 24-48 hours after entering your new Username and Password for your updated expiration date to display.
Congratulations!  That is all there is for renewing your ESET subscription. You may also download and install the latest version of your ESET product at: http://www.eset.com/download/registered_software.php. You will need your Username and Password again when prompted.