ESET Nod32 Antivirus License Expiration Date
How to View ESET Smart Security or ESET NOD32 Antivirus License Expiration Date
If you are using ESET Smart Security or ESET NOD32 Antivirus, your license expiration date can be viewed at any time from the main program window.
NOTE:
If you just renewed, please allow 24-48 hours after entering your new Username and Password for your updated expiration date to display.
Open the main program window by clicking the ESET icon next to the system clock or by clicking Start/All Programs/ESET/ESET Smart Security or ESET NOD32 Antivirus.
From the main menu, click Protection status. The expiration date is displayed next to License valid until to the right.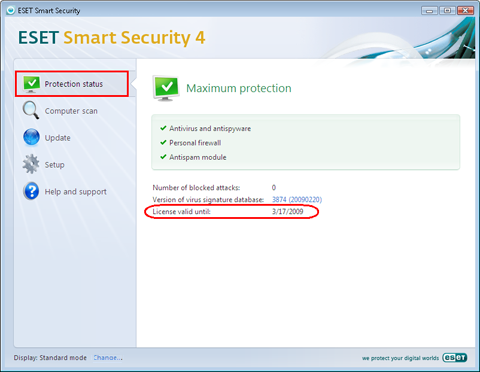 Return to How to Renew ESET Nod32 or ESET Smart Security
For step-by-step instructions on renewing any version of ESET Smart Security or ESET NOD32 Antivirus, as well as entering your new username and password into the program settings, click here.
[hr]
What if my license expiration date is not displaying properly or showing the wrong expiration date? (ESET Smart Security or ESET NOD32 Antivirus)
If your ESET security product is not displaying the correct license expiration date, you can verify the validity of your product license, which will cause the current expiration date to appear. To verify your product license, follow the steps below:
If you see Display: Standard mode in the lower left corner of the main program window, toggle to Advanced mode by clicking Change… and then clicking Yes to confirm or by pressing CTRL + M on your keyboard.
Click Help Verify license validity from the top menu.
An alert will display your updated license expiration date. Click OK to close it.