Online Safety for Internet Savvy Teens

April 6th, 2011

Posted in
Books
,
Cool Products
,
eMail Scams
,
Miscellaneous
,
Social Media
,
Spyware Prevention
Microsoft recently released a FREE ebook to help teenagers keep themselves safer online. The credit goes to security expert and author, Linda McCarthy who partnered with Microsoft, to provide this must-have (and free) downloadable version of her new book, which was written for computer and Internet savvy "tweens" and teens, as well as their parents and educators titled:
"Own Your Space – Keep Yourself and Your Stuff Safe Online"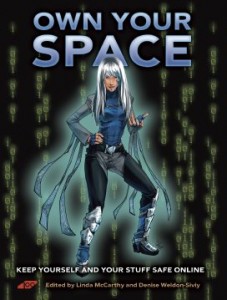 The hardcopy normally sells for $19.99 (ISBN 978-0-615-37366-9), but when asked why she decided to partner with Microsoft to post her book online for Free, author and OwnYourSpace founder said, "It is increasingly more important that schools and families have access to free security information to protect themselves on the Internet." As such, some of the more important topics covered in this ebook are:
Cyberbullying
Hackers and Crackers
Social Networking
Phishing
Spam
Who was this eBook is Written For?
This eBook was written for both Teenagers and Adults who are:

It doesn't matter if you are a parent, a caregiver, or a teacher, because most any adult can learn to stay up-to-date with the latest computer and online safety concerns to help train their kids how to avoid dangerous internet situations that affect not only your computer's health, but your loved ones themselves. Below is a breakdown of the chapters in this great book.
Chapt 1: Protect Your Turf
Chapt 2: Know Your Villains
Chapt 3: Nasty "ware"
Chapt 4: Hackers and Crackers
Chapt 5: Taking SPAM Off the Menu
Chapt 6: Cyberbullies
Chapt 7: Phishing for Dollars
Chapt 8: Safer Cyber Shopping
Chapt 9: Browsers Bite Back
Chapt 10: Private Blogs and Public Places
Chapt 11: Going Social
Chapt 12: Friends, Creeps, and Pirates
Chapt 13: Any Port in a Storm
Chapt 14: Look Pa, No Strings
Chapt 15: Getting Help
Chapt 16: Tweaks
Appendix
Download Your Free Copy of "Own Your Space" Here!
The link above will take you to the Microsoft Download Center where you can download the entire 266 page eBook at once, or chapter by chapter, in either Microsoft XPS or Adobe PDF format. There is nothing to sign-up for, just direct links to a great book. The picture below shows you an example of the download page.