Internet Explorer 9 Released

March 23rd, 2011

Posted in
Free Software
,
Internet Browsers
,
Noteworthy News
,
Reviews
,
Spyware Prevention
,
Windows Updates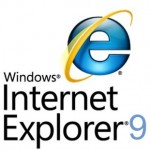 Windows Internet Explorer 9 was released today after a year or so in the making since it's announcement. Internet Explorer 9 (IE9) boasts a long list of new and improved performance and security features. Since Microsoft has already posted a ton of information about IE9 (see various links below), I'll just mention a few noteworthy excerpts here. But I urge you to read the next subheading "Upgrade Tips and Lessons Learned" before you blindly decide to upgrade IE on your computer so your first experience with IE9 goes smoothly.
Upgrade Tips and Lessons Learned
Based on my experience, I have some words of caution before you consider upgrading to IE9. I am always wary of being one of the first guinea pigs when major updates are released, because you always hear about the negative experiences soon after. As a PC Tech, I can tell you that most of these negative experiences are due to the current health of your computer, outdated browser add-ons, and security software. Most people just blindly install updates without ever considering just how important "preparation" is for a smooth migration to the latest, greatest version. Below are a few tips I picked-up through the school of hard knocks.
Don't install IE9 if you are already experiencing problems with your current IE version (although installing IE9 might be a last resort to repair IE)
Don't install IE9 if your PC is infected.
Update all your IE add-ons before upgrading to IE9, and remove any incompatible add-ons.
For better success, I always prefer to download and individually install the off-line version of IE (and Windows Service Packs as well), rather than installing IE as part of a bundle of Automatic Updates. There are just too many things that can go wrong with Automatic Updates.
Temporarily disable your Antivirus and any 3rd party firewall whenever installing major updates such as Windows Service Packs and new Internet Explorer versions. These types of updates tend to be invasive and your security programs might interfere with them installing properly.
IE upgrades go smoother when you install IE in sequential order, meaning that I wouldn't jump from IE7 to IE9, install IE8 first and then make sure it runs stable before upgrading to IE9. The problem here is that most PCs have Automatic Updates enabled by default, which may cause IE to skip past a version straight to the latest version. Sadly, I have seen too many IE browsers corrupted after Automatic Updating for various reasons such as outdated browser add-ons that were  incompatible with the new IE version, causing instability and crashes.
So before upgrading IE, I usually check to see if IE upgrades had already been installed in order. If not, I will roll back to the previous version, and then reinstall in order. Vista started with IE7 and Win7 started with IE8, so only Vista users need to be concerned. This technique has saved me many times going back as far as IE5 with Win98.
How Do You Get Internet Explorer 9?
Whether you're have Windows Vista or Windows 7 on your PC, you can upgrade to Internet Explorer 9 to replace your old version of Internet Explorer, but as I mentioned before, I prefer to install IE in order and with the off-line update as well.
Internet Explorer 9 can be download from Microsoft at the following link:
http://windows.microsoft.com/en-US/internet-explorer/downloads/ie
Summary of Internet Explorer 9 Improvements and Features
It's all-around Fast: Hardware-accelerated text, video, and graphics speed up performance and make websites perform like programs that are installed on your computer.
Streamlined and Simplified Design: Gives you the basic controls you need and puts the focus on your websites.
One-click Access to Your Favorite Sites: With Pinned Sites, you can get to your favorite sites directly from the Windows taskbar without having to open your browser first.
A combined Search and Address bar: One place to either navigate to a website or start a search.
Redesigned New Tab Page: Now you have quick access to the sites you visit most often, and you can also reopen closed tabs or your last browsing session, or start an InPrivate Browsing session.
Integration with Windows 7: With Snap, Pinned Sites, Jump Lists, and thumbnail preview controls, Internet Explorer 9 and Windows 7 bring you the best web experience for Windows.
Improved Add-on Management: Add-on Performance Advisor tells you if an add-on is slowing down your browser and allows you to disable or remove it, helping ensure that your browser stays fast over time.
Helps Control your Privacy: Tracking Protection enables you to limit the browser's communication with certain websites to help keep your information private.
Keeps your Downloads in Order: Download Manager keeps a running list of the files you download from the Internet, notifies you if a file could be malicious, and allows you to pause and restart a download.
Visit http://windows.microsoft.com/en-US/internet-explorer/products/ie-9/features for more information about IE9's features.
Summary of Security Features
Since this site is all about Spyware Prevention, here is a short-list of new security features in IE9.
Trusted ActiveX Filtering: Choose which ActiveX controls to run and help protect your computer from risky controls with ActiveX Filtering.
Cross-site Scripting Filter: Protect against online threats with cross-site scripting filter.
Domain Highlighting: Identifying the true web address is easy with domain highlighting.
InPrivate Browsing: Keep your information to yourself with InPrivate Browsing.

SmartScreen Filter: SmartScreen Filter helps combat threats with a set of sophisticated tools for Anti-phishing protection, Application Reputation and Anti-malware protection.

Tracking Protection: Choose which sites can receive your information and track you online with Tracking Protection
To see how Internet Explorer stacks up against other popular browsers as well as other previous versions of Internet Explorer, visit:
http://windows.microsoft.com/en-US/internet-explorer/products/ie-9/compare-browsers