CCleaner Review

October 17th, 2009

Posted in
Computer Performance
,
Computer Repair
,
Free Software
,
How-To Videos
,
Registry Cleaner
,
Reviews
,
Spyware Prevention
,
Spyware Removal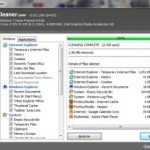 CCleaner is a totally free program you can download from the internet that you can use to remove unused files and registry entries from your computer. On computers that have not had a good disk cleanup in a while, CCleaner can actually allow Windows to run a bit faster by freeing up valuable hard disk space and removing orphaned registry entries. Below is a video demonstration about how to download, install, and run CCleaner.
It also cleans traces of your online activities such as Cookies, Internet History and Temporary Internet Files for several popular Internet Browers such as Internet Explorer, Firefox and Opera.
CCleaner has a small footprint and installs very quickly. When used regularly, it completes scans very quickly as well.
I run CCleaner often, at least everyday, especially after browsing the internet. For best results, close your Internet Browsers before running it. It is very benign and I have never known CCleaner to harm a computer.
(Note for PC Technicians) I would recommend they copy the C:\Windows\Minidump folder to another location before running this tool if you had planned on doing a Crash Dump Analysis for a Blue Screen of Death (BSOD). Don't worry about this if you are not a PC Tech, you probably don't have the software to do this (but it is free from Microsoft).
And the great thing is that CCleaner is FREE and contains NO Adware, Spyware or Viruses!
CCleaner Screenshots
Below is a gallery of screenshots for the following CCleaner features: Analyze, Cleaning Rules, Registry Cleaner, Uninstall Tool, Startup Tool, System Restore Tool, and Options.