Be Careful About Turning Off System Restore

March 23rd, 2012 Tags:
system restore

Posted in
System Restore
Just a brief post about using System Restore and malware infections. I recall in the past that one of the first things Symantec (Norton) suggested you do when your computer got infected, was to "disable" System Restore". Disabling System Restore deletes all your old System Restore points. Their motive was to prevent you from reinfecting your computer later on in case you ever ran System Restore. I always disable/re-enable System Restore after removing malware, but "never" until "after" I have restored Windows to my satisfaction.
Recent System Restore Story
A recent example of this, is that I had a customer come in with a FakeHDD Program. He initially called telling me he had a bad hard drive. When he brought it in, I could immediately tell that he was just infected with a "fake" program called "System Check" telling him he had problems with his hard drive, but that is another story.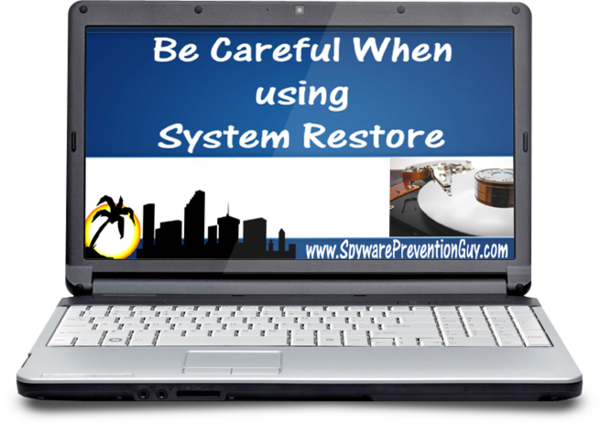 Anyway, he did the right thing bringing it in right away, and not putting off repairs for weeks and months like many other customers do. This could have been an easy fix using System Restore, but unfortunately, System Restore had been turned-off (disabled). System Restore can be very effective at reversing the effects of a sudden infection, but with no restore points to work with, I'll have to disinfect the malware the  time-consuming, old  fashioned,way.
Also, when you get one of these types of infections, the average person probably won't be able to invoke System Restore because these infections usually block you from running many built-in Windows utilities such as regedit, msconfig, Task Manager, and System Restore. But a decent PC Technician can usually work around this with advanced techniques and 3rd party software.
Suggestions
Before you ever decide to try and fix one of these problems yourself, please don't go out and by some "miracle product" you heard about from the TV or Radio. PC Techs don't use them and neither should you! Some FakeHDD infections hide and move files and folders into "Temp" folders and if you start trying to fix the problem yourself by using some "cleaner", you may cause permanent program shortcut and misc data loss. So always back up your important data first. And don't use System Restore frivolously, you might fix one problem and get another.