Is My Blue Screen Caused by a Virus or Spyware?

April 20th, 2011

Posted in
Antispyware
,
Antivirus
,
Blue Screens
,
Computer Repair
,
Spyware Prevention
What is the Blue Screen of Death
Have you ever seen the infamous Blue Screen of Death, otherwise known as a BSOD, like the one below? A BSOD is a critical error that can be caused by viruses, spyware, incompatible software, and hardware failures.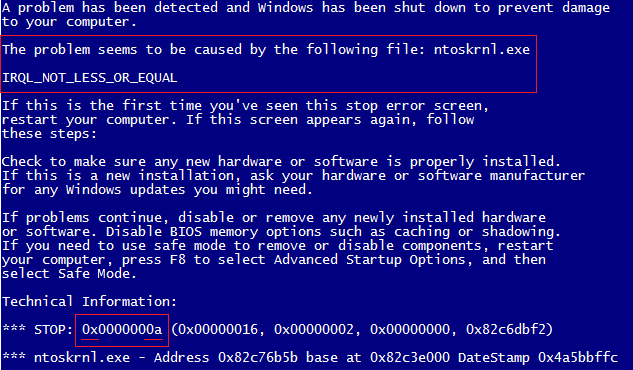 When someone's computer gets a BSOD, it's likely that it might be from a virus, but that isn't always the case. They'll bring me a piece of paper with all this stuff written out, or they start reading it to me verbatim over the phone hoping for a quick fix because they got all this data to show me. While there are many, many similar blue screens you might get, most of the information in the body of the text is a common blurb. And even if you "think" you did what it says, and it didn't fix your problem, just know that these are only common entry level steps to begin troubleshooting, so if you already feel lost at this point, call a PC Technician.
PLEASE, do not be quick to insert a Windows disk, your System Recovery disks, or try to run the built-in System Recovery by pressing F10, F11, or F12 after you restart the computer. Doing so may cause you to lose your data, and it might not work anyway (yet) depending on your problem. For a technician, this would be a "last resort", not the first.
Anyway, when you get a BSOD, the main information we need is the one-line phrase near the top, the problem file (if listed), and the Stop Error code as shown in "red"  in the picture above. Also, if you have a digital camera or a cell phone with a camera, save yourself some time and just take a picture of the screen. The bullet items below have the the info from the BSOD pictured above that we need.
IRQ_NOT_LESS_OR_EQUAL
ntoskrnl.exe
Stop

0x

000000

0a

(all we usually need is the 1st 2, and last 2 digits of the first group before the parentheses, examp: 0x0a)
At this point, all you can do is turn off your computer by pressing and holding in the power-button for a "full" 4 seconds.
If you have another computer to do research with, check http://technet.microsoft.com/en-us/library/cc785339%28WS.10%29.aspx for troubleshooting specific blue screens (stop errors).
A related subject I wanted to briefly mention about BSODs, is the minidump file that usually gets created in a folder named c:\Windows\minidump. A Crash Dump analysis of this minidump file using Microsoft's free "Debugging Tools for Windows" along with the proper Symbols will sometimes reveal exactly what is wrong.
Is My BSOD from a Virus?
As I mentioned at the outset, BSODs have causes other than viruses and spyware, although a bad infection is usually the cause most of the time. For every 100 people in denial about possibly having an infection, maybe 1 or 2 of these is right and actually has a software incompatibility problem. But when I ask my usual questions about how the computer was performing before the BSOD, or if any new software or hardware was recently installed, they say "nope", and go on to tell me how perfectly their computer worked yesterday. Trust me, whatever you think is unlikely, I will note, but only with a grain of salt. Many computers have several users (such as with a family computer), and the owner doesn't always know the whole story.
I recently came across a good example to explain this scenario. This guy had a Toshiba Notebook running Windows 7 with BitDefender Internet Security 2010 installed. All seemed fine, until he needed to use the FN key. As soon as he pressed the FN key, his Windows crashed with the Blue Screen of Death (BSOD) pictured in the example above.
I don't know how long it was after installing BitDefender Internet Security 2010, that he needed to use the FN key, but everything seemed fine up until pressing that key. For example sake, if enough time had passed before needing the FN key, he might not even suspect it had anything to do with BitDefender, as everything seemed to be running perfect. Out of sight is out of mind.
By the way, Bitdefender is a good product, and "ALL" software has bugs, its just that certain unlikely conditions have to be met before a bug will manifest itself. Its kind of like side effects from medication, not everyone experiences them. Anyway, I only used this as an example, I am not posting this information as a fix for any Toshiba or Bitdefender problems.
As it turns out, BitDefender was interfering with a Toshiba driver named "LPCFilter.sys". Unless, either Bitdefender or Toshiba have published a fix for the issue, your PC Technican probably can't fix the problem other than to remove Bitdefender. If you expect more, you will need to take it up yourself with the software engineers at Bitdefender, or maybe Toshiba. PC Technicians are not responsible for program incompatibilities! We can only resolve them if a fix has been published and we were able to find it.
A Little Advice
While not all BSODs are caused by viruses and spyware, some of these problems can be avoided by using the same spyware prevention tips I have mentioned before. Namely, by using "Limited" or "Standard" User Accounts for your everyday computer use, especially for young and novice users. This will help prevent them from installing programs that might end up being harmful to your computer. Hopefully you have a responsible, computer literate person in your home or office that can be the computer "Administrator" who will do a little homework before blindly installing any new programs that might prove to be incompatible, or worse yet, malicious.