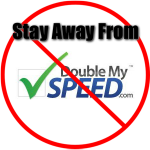 During the last couple weeks, I have been getting several phone calls from around the country asking if I was with DoubleMySpeed.com.  These people were all looking for a refund. Somehow, they got my phone number off the web making them think so. I am just a guy that runs an independent  computer repair shop in Hawaii. About the only connection you can say I have with DoubleMySpeed.com is that I have blogged about them "very negatively" on many occasions. I know some of my blog posts have ranked in connection with DoubleMySpeed's name because of my negative reviews, so I assume my phone number popped-up in the search engines as well for DoubleMySpeed.com (aka CyberDefender, MaxMySpeed.com and MyCleanPC.com).
Their emergency PC Support ph# is listed as (866) 793-0453 at http://www.cyberdefender.com/
Click "Read More" button below for full article.