How to Remove CyberDefender – aka MyCleanPC.com and DoubleMySpeed.com

June 2nd, 2011

Posted in
Computer Performance
,
Computer Repair
,
How-To Videos
,
Reviews
,
Rogue Security Programs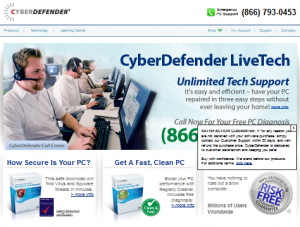 I have warned about CyberDefender's "borderline scam" before under my "Reviews" category. But it seems like a good time to get out the warning again, especially since the economy has prompted so many people to try and fix their own computer problems, rather than to have them fixed by a professional. I call it a "borderline scam" because they probably do just enough to fulfill some bare-minimum, mumbo-jumbo legal requirement. First of all, MyCleanPC.com and DoubleMySpeed.com are alias websites for CyberDefender.com. These websites are all owned by the same company, which all promote the same products such as CyberDefender PC Checup, Early Detection Center, and Registry Cleaner.
The whole process starts from an unwary customer with a slow computer who has seen or heard some MyCleanPC.com or DoubleMySpeed.com TV and Radio commercials. They have some regular looking people (probably actors) touting how fast their computer works after trying their product, and that it all begins with a free diagnosis. If you opt-in to run their free-diagnosis, you are giving them permission to install additional software which I am sure you will regret later. The free-diagnosis is "invasive" and the software will remain on your computer until you can figure out how to remove it. Check the internet for yourselves and see how many people have a hard time trying to remove CyberDefender's junk software.
The free diagnosis is just that, a diagnosis and not a repair. But before their software will "allegedly" fix anything, you have to purchase it, after which their will be additional borderline bogus software installed on your computer. It is well known among PC Techs that their software detects a high percentage of false positives, and a low percentage of real threats. It is very unlikely that it will detect any serious threats. For some small number of computers with minor infections, CyberDefender might actually help somebody, for a price. But their are plenty of certified freeware alternatives that could do a better job. I'll list them at the end of this post.
Before I show you how to remove CyberDefender below, take a moment and read the next few paragraphs so you can learn how to never fall for security software scams.

Security Software Testing and Certification
Now, I know that even the more well-known security products out there have their strengths and weaknesses as well, so how does CyberDefender rank amongst the contenders? You know how I already feel, but you don't have to take my word for it. The good thing is that their are several independent testing laboratories that provide vendor-neutral testing and certification for hundreds of different security products for many of the world's top security product developers. You can read detailed reports of their finding on their websites. Below are just a few of the more well known ones, such as ICSA Labs. When a security product is tested to comply with certain industry standards, the vendors are authorized to display the logo for each testing laboratory they were certified by, which they do proudly. An ICSA Labs certification for security testing is what an Underwriters Laboratory (UL) certification is to product safety.
How Good Is CyberDefender?
To my surprise, CyberDefender managed to get "1" certification from WestCoastLabs, but it was just their "Standard" certification and not their "Platinum" Product Award like what the mainstream security vendors receive. To quote WestCoast Labs:
The Checkmark Certification programs validate the functionality and performance of both content and network security technologies in a range of threat scenarios and attack vectors from standard baseline benchmarking tests against accepted industry standards, to Real Time testing that sees products under continuous test against zero day real world threats 24 hours a day, 7 days a week, 365 days a year.
Products registered and tested in the Real Time programme are eligible to display the Checkmark Platinum Product Award. Those products registered and tested in the standard certification programmes are eligible to display the Standard Checkmark logo.
If my math is correct, by receiving only a "Standard" certification, CyberDefender must not have been registered or tested in the "Real Time Programme". I read this to mean that CyberDefender was NOT tested under continuous test against zero day real world threats 24 hours a day, 7 days a week, 365 days a year.  So how can they offer 100% satisfaction?
In addition, I was able to find quite a few Product Test Reports for many of the mainstream security vendors such as Kaspersky, BitDefender, Trend Micro, Sophos, Panda, McAfee, and others. Sadly, I was unable to find any reports about the test results that only earned CyberDefender a Standard certification. Most main stream security vendors proudly display "several" certification logos. I would also add that as a company, CyberDefender doesn't compete at all in the Enterprise/Commercial security software market for businesses. It seems to me that they only prey on unwary "consumers" as I mentioned at the outset.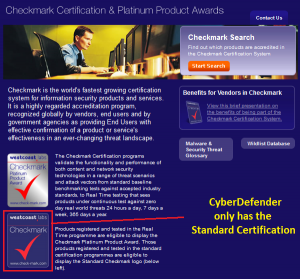 But of course CyberDefender boasts being in the news with Fox, PC Magazine, Reader Digest, ABC News, and USA Today, as well as a several online awards from CNET, Softonic, Tucows, SoftAnalyse, TopTenReview, Softforall, Top4download, download3k, DoDownload, GearDownload, Softpedia, and download3000all. What do a bunch of download websites know about the quality of CyberDefender? Are they as qualified as all the independent testing laboratories I mentioned above. Of course not, these awards are based on the number of downloads. For example check CNET.com for their CyberDefender Early Detection Center download, which as of 01Jun2011, there were 146,776 downloads, with 35 of them from the week before.
I see no other quantitative testing data that would reveal how good or bad the product is. All other reputable antivirus vendors I know provide detailed charts and graphs of their product's performance. Reputable companies even provide specific information about each individual type of threat in its virus definition database. It seems to me that the these "awards" are solely based on popularity. And no wonder, because of all their efforts to promote it on these download sites, as well as their aggressive and sensational (not to mention – deceiving) advertising all over the nation on Radio and TV. I'm sure most people know that anything on the internet can get in the news if it gets enough hits, from Charlie Bit My Finger to CyberDefender.
How To Remove CyberDefender
After installing CyberDefender and you finally discover that it is bogus software you want to remove ASAP, read on…
Sometimes removing CyberDefender is as easy as going to the Control Panel and uninstalling it like you would any program, but that is not always the case. When CyberDefender goes rogue and you can't remove it normally through the Control Panel, there are a few methods you can use to either reverse the situation or force it out. Also, be sure and try whatever method you use in the Safe Mode if it didn't work in the Normal mode.
Manual Removal: For a PC Tech, I would end any processes associated with Cyberdefender using the Windows Task Manager (Ctrl-Alt-Del), and then search for and manually delete every Cyberdefender folder and registry entry I can find. I might use HiJackThis and AutoRuns to help find and delete any remaining traces of CyberDefender. Then I would run CCleaner to clean Temp Files and the Registry.
System Restore: If you only recently installed CyberDefender, you could use System Restore to restore your registry to a known good restore point just before installing CyberDefender. Please don't get in the habit of using System Restore to try and fix every problem under-the-sun, and don't go back too far. System Restore doesn't always go well, especially if your computer is severely infected. Sometimes you have to manually clean as much bad stuff as you can and then perform a System Restore. Just know that you might also be restoring some of the bad stuff you already removed, but you may notice that Windows is more stable than it was before the restore operation, making further cleanup easier.
Revo Uninstaller: Another method would be to download and run Portable RevoUninstaller. Use the Revo Uninstaller Portable Download link at the bottom of the page. I recommend the portable version because it doesn't need to be installed, you just need to unzip it and run it. You can even run it from a flash drive. Note that this tool does not automatically remove programs. You "must" learn how to use the tool first, because it will require some manual selection of files, folders and registry entries to delete. I suggest using the "moderate" method. Everything it finds associated with the program you are trying to remove should be listed in "bold". You will need to manually check each item you want to remove and then select delete. Do not check and delete any "parent" folders or registry entries not belonging to CyberDefender. I would then run CCleaner to clean Temp Files and the Registry.
PC Technician: If all else fails, you may just have to take it to a reputable PC Tech and pay to have it removed. This may be a good idea because of the reason you tried CyberDefender in the first place … your computer was already running slow and may be infected. Whatever the case, stay away from CyberDefender!
Links to Help with Removal of CyberDefender
Here are plenty of totally free software tools and procedures that you can use to help restore your computers health. These go above and beyond whatever CyberDefender can ever hope to offer.
HiJackThis: http://free.antivirus.com/hijackthis/ (be careful with this one, not everything it lists is bad, you have to know what to check for removal or you can seriously damage your Windows installation)